9 comments Add a comment
Does anyone know what a 'Bob' is? It's seems I'm surrounded by them everywhere I go in particular in the workplace. Bob is the nickname I've decided to give someone who only does half a job, doesn't complete a job or doesn't actually do the job properly. I'm sure you've all heard of Half a job Bob. Anyway, my point is that I can't stand Bobs and they are really bothering me at the moment.
Is it so difficult for someone to actually finish something they started or at least do a half-decent job of it? In my workplace there is a girl that is a perfect example of a Bob. She only ever does part of a task and then delegates the rest to someone else because she is too damn lazy. Before you say anything, she is not a manager, she just does the bare minimum and somehow always gets the credit. Another trick she does to get someone else to do her work for her is to coach them, well that's what she calls it. What it really is is her getting you to do the thinking for her because she can't be bothered. Then when the task is completed and handed back to her she'll forward it on to her manager and take all the credit and you won't get a mention. Surely this isn't right, but what do you do about it?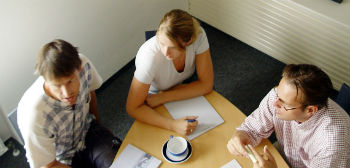 Today this same person did a task I usually complete in 1 hour and 15 minutes but surprisingly it only took her 35 minutes. I questioned how you managed to do it so quickly and she just laughed. All I can say is she couldn't have done a thorough job of it, in fact as the day progressed I found she had actually cut corners. The thing is her manager doesn't know this and she has potentially made me look bad.
There was another incident where I was working on a project with this same girl and she actually got me to do all the work but actually told her manager she was coaching me. How can that be right? We were supposed to be working on the project as a team. One particular thing that bothered me about this project was that I had spent ages putting a document together and when it was complete she offered to email it to our manager for approval. I actually jumped in and said I would do it as I knew she would get all the credit otherwise. Don't you just hate people like that?
By: Liz
Leave a comment