42 comments Add a comment
It doesn't seem to matter how straightforward you make a process, or how foolproof you think the system you have developed is. There is always a manager out there who takes it upon themselves to throw a spanner in the works and do it their own way regardless of the guidelines you set out for them. I'm pretty sure that cleaning up after them wasn't in my job description and I do not suffer fools gladly!
I've got a pretty mundane job these days, but it is occasionally brightened up by some of the stupid things those in a position of some authority do. These so called team leaders and managers are looking after a team of people, but it would seem that they are basically incapable of following a few simple rules to get a job done. These rules are designed to make my job straightforward and reduce the chances of making mistakes with the data. When they decide to do their own thing, it gives me a whole load more work to do to sort out the mess. Why can't they just follow the procedures that I set out? It's really not that difficult!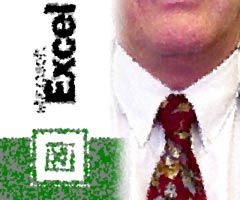 Okay, just to clarify things a bit, I receive a number of spreadsheets each week containing basic data such as employee numbers and dates. I simply transfer this information into a database so that someone somewhere can run a report. No problem you might think. Anyway, last year the format of these spreadsheets was agreed by all parties and the managers and team members were duly sent out a copy with very specific instructions as to what was expected of them. We're talking about 3 simple columns here on one worksheet, so it's pretty hard to screw up.
To date at least a quarter of the returned sheets have to be amended in some form or other. They either put useless comments in the fields, or leave out dates all together. Sometimes they do both. I really don't care that such and such wasn't in that day and you don't know the dates. Just send me 'good data' in the format we requested or send nothing at all!
It saddens me to think that most managerial staff get paid way more than technical and administrative staff when clearly so many of them do not have any common sense and think that if they don't like the way something is done, they can change it whenever they like.
Leave a comment