45 comments Add a comment
I got a job with a small company as their webmaster a year and a half ago. At first the job seemed pretty ideal as I got to work from home. However, I have found that this is the worst paid job I have had with the highest workload since I finished college.
I was promised a raise, but the goal posts constantly got moved, so in the end I have learned that the guys who own the business simply don't want to pay me any extra. There is no point in even asking any more.
To make matters worse, soon after I started working for them I was diagnosed with a huge kidney stone that was filling my entire right kidney and causing a permanent kidney infection. I ended up having a 6 hour operation, got blood poisoning and was in hospital for over a week. I had tubes coming out of my back for 5 days and I am only 33. I was signed off for 3 weeks after and my boss will forever hold over me how much time I have had off because of my kidney stones and infections.
So now I have caved in and I am working 40 to 48 hours a week...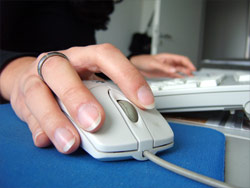 This means that whenever I do anything he doesn't like, or I try to negotiate a better deal for myself my boss reminds me of how good he has been to me. I am only on a part time contract and at the start of the year I was given 3 large sites to manage in 24 hours a week. My boss even admitted that it was one and a half full time jobs worth. So now I have caved in and I am working 40 to 48 hours a week for around £7.50 per hour and I am expected to jump through hoops and behave as a manager, but without the compensation in my pay packet! The only time I keep my boss and his brother off my back is when I am effectively working 6 day weeks.
I hate this job so much, my other half works away and actually gets to have contact with real life people while I sit and rot in front of my monitor doing this job that is sucking me dry mentally, emotionally and creatively. It is affecting my relationship as I am so damned jealous of the fact my partner is not sat on his backside, on his own at a keyboard all day. In fact I am actually starting to hate him at times because of this.
I recently felt quite suicidal, but I am a mum so unfortunately I am condemned to this daily misery 'till I find another job. Seeing as I live in a rural location and don't drive it looks to be a long time coming! Plus, now I am a webmaster people think I am over qualified to do things like admin, cleaning and reception jobs. I got my dream house in the country, but it has turned out to be a prison!
Thanks for reading!
By: Bexter BMF
Leave a comment