37 comments Add a comment
I have been looking for work since being made redundant back in April. During this time I have made on average 5-10 applications a day country wide and have had an average of 2 interviews a week from end of May until today. I still haven't got a job and I think I know why. It appears that most companies don't want people that have been made redundant and they definitely don't want people that are currently out of work. So how the hell do people like me get a job?
work fit and ready to go today...
It's all well and good trying to get the long term unemployed back into work, but there are people work fit and ready to go today that can't get a job due to this weird and frankly impossible to understand attitude that employers seem to have. Another thing I have found recently is that many companies like to play with your mind. On the one hand they give you the impression that they want you, and then all of a sudden you're not good enough for them. I have been told I am one of the best applicants they have had and would work really well in this company. My track record and experience will make them money. However in the next instant they hire a trainee who will be a burden to business for about a year. They completely ignoring the fact that I could have hit the ground running and been productive from the start. By the way I've taken a self employed role to keep me in the game, keep my skills up to date and keep the bills ticking over.
I'm fascinated by other forms of interview or candidate profiling, things like psychometric tests and competency based interviews. Both serve no purpose to any job. That's a bold statement, I know. But I have seen it time and time again that they don't always work and need to be taken with a pinch of salt.
For example, I nominated an ex-colleague to work for my last company. The rules had been changed and she had to sit a psychometric test and a competency interview. She was the top biller in my last company, a real asset to the company but she needed to relocate to my are for family reasons. Anyway, she sat the test and the results came back the next day to the boss's computer. They were terrible, and it was obvious that she had dyslexia or some form of learning disability. BUT... She didn't even get an interview from these tests. In the end she went to another company, pretty much picked up where she left off and to this day is a top performer.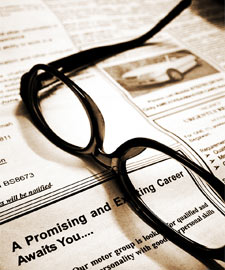 if they bothered to look at my CV...
I have sat competency based interviews, 'tell me about a time you worked as a team..' and if they bothered to look at my CV they could see plainly the last time I worked as a team. You know, if you're ex military, play football or netball there's a good chance you're a team player unless unless you're have been stuck on a station in the South Pole studying snow!
I can understand these sorts of interviews being used for a graduate because most of them don't have a work background, so the interviewer needs to pull information from them. But a seasoned professional? A person that has done the job for more than 2 years will have the relevant experience for the job. If the CV doesn't hold the information you require, ask for it! Send an email or do a telephone screening.
Finally, the job application forms themselves are often useless. You spend hours perfecting (or for some... buying) a CV that outlines years of work, experience and achievement, only to be told you have to fill out a simple dumbed down application form that makes us all look like we are stupid cause there is never enough space for one qualification let alone 15 years worth! How the hell are you supposed to list your 'duties' in a postage stamp sized box at end of the page?
Employers have either got lazy or incompetent and I'm not sure which is worse. We have moved away from being a mutual agreement of work, where they sell us the job and we sell ourselves, the end result being an offer may be made and accepted. Instead of this we now have to sell our souls, and if you want the job how many hoops do you have to jump through first?
By: Derek
Leave a comment