10 comments Add a comment
At my place of work we are required to use swipe cards for access to the buildings and most main doors between sections within buildings. When going to the toilet for example, we would need to use the swipe card to re-enter our office.
What I find annoying is there have been numerous occasions when I have gone to wash my hands, someone else is washing and drying his hands very slowly - for over a minute, and he keeps drying them until I have finished. This person then tailgates me so that he can re-enter the office without putting the effort in to get his own swipe card out.
I have become aware of this laziness and lead these people into a false sense of security so that they think I am leaving. However, suddenly I discover that I have a shoelace undone just as I get to the doors that require the swipe card. Of course I have to kneel down immediately and tie it.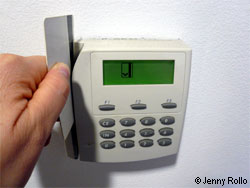 Other tactics I use include having the wrong pass so I cannot let them in, (but I do have it with me for use if I am on my own), etc. or going back into the toilet for some tissue.
Most of these men are generally bad mannered and have an element of insecurity in their personality in my opinion. I hope that this unpredictability of trying to exploit and be opportunistic of my efforts makes them feel even more insecure.
Some of them have even given me a dirty look when I pass them, which to me means that they probably have a guilty conscience. If it were by chance, they would not have been so aggrieved that they had to get their swipe card out as that would have been their original intention and therefore thought nothing of it. They know they were caught out.
By: Aerobubble
Leave a comment