14 comments Add a comment
I fly quite frequently due to relocating from Bristol to Glasgow. In the past I've also defended Ryanair as people complain about card fees, baggage costs and toilet charges. I stood by them saying that despite all these fees, 10 years ago you still couldn't get from A to B for the kind of fares that they potentially offer. They even cancelled a flight 20 minutes before departure at 22:00 in Barcelona and had to fly back the next day to Newcastle instead of Prestwick wasting a day off work. I then had to take them to a small claims court in Dublin (7 at the time) after they initially refused to pay my 250 costs but was still happy to use them.
However, my last flight to Ibiza resulted in my wife's suitcase getting lost when we had a wedding to go to 2 days later. The case arrived in Ibiza the following day after going off on a trip of it's own to Dublin, but they refused to send it on to us at our accommodation in Ibiza saying we had to collect it in person ourselves when it arrived at the island at a cost of 60 in two taxis!
On our return to the UK I submitted a claim for this money and Ryanair refused pay us a penny. Instead they hid behind the Montreal Convention - Article 31. This is a document that I've never even heard of let alone brought on holiday as my poolside reading! Apparently, as I hadn't complained in writing within 21 days (7 days if you include the 14 days we spent in Ibiza), they are not liable and don't have to reimburse us for these additional expenses.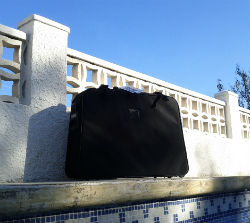 I'll boycott Ryanair from now on...
In my next letter to them I pointed out that it says quite clearly on their own website that they will forward the baggage on. However, apparently it was my choice to spend our holiday travelling the island to retrieve our luggage and spending 60 in taxis rather than by the pool, so again they hid behind Article 31.

Now if they think this is a reasonable customer service and an appropriate way to treat their passengers they're wrong. In fact I feel so let down that I will join the list of non-flyers, I'll boycott Ryanair from now on.

If this is how they keep their costs down, then as far as I'm concerned it will always be more cost effective in the long run to pay bit extra and fly with an airline that actually gives a damn about it's customers!



Leave a comment