50 comments Add a comment
On a recent holiday to Greece, our flight home was delayed for 14 hours. Yes that's right, a delay of 14 hours! The tour operator was unable to provide any useful information but said not to stray too far away as they felt sure we would be boarding soon. So, I went outside to work on my tan. A couple of hours - not a problem. Except there was no sign of boarding...
After a few hours, we got the obligatory sandwich and glass of tepid water. Then there was another 6 hours before we were supplied with a cold hot dog and a cup of coffee. I love Greece but the attraction of their airports does tend to wane after you've been sitting in one for a while.
When the plane finally took off (14 hours later), we were charged for the coffee on board and the pretty much inedible food. We also had to wait for some luggage to be taken off the plane as a group of passengers had given up and got themselves a local hotel without telling anyone. Understandable after 14 hours but it meant an extra 45 minute wait for the rest of us!!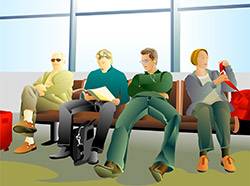 Return trip from Greece a total fiasco...
We arrived back to Luton airport at 1.30 in the morning. Naturally as is the case in England, all forms of public transport had ceased by this time and I was faced with the choice of spending £70 on a grotty room in an airport hotel that looked like a 1960s crematorium, or spending £60 on a taxi to get home - tough choice! In the end, some very kind friends came for me in their car, which promptly broke down on the motorway. All in all my return trip from Greece was a total fiasco.
The tour operator refuses to reimburse me in any way and replies to all my letter in a patronising and formulaic style. It's a well known company and I've used them many times in the past. Obviously, customer loyalty means very little to them. After spending quite a lot of money on this holiday, I felt I needed another one by the time I got home.
If only the company would admit that they totally screwed up, I would feel a lot better.
By: Nicky B
Leave a comment