75 comments Add a comment
We recently booked a trip to Spain, which was for 4 weeks and flew via Ryanair. Even though I am a seasoned flyer and know most of the cons, it does seem you are constantly on a learning curve with respect to the latest Ryanair con and all their extra charges.
We have been flying to Spain for some years and as is law for children to sit in a child seat for the hire car we have always carried the car seat with us. Previously with most other airlines they will transport the car seat for free but not Ryanair! Apparently if the child is over 5 they charge 20 each way for the car seat - so that's the first hit on the wallet!
I was also aware of the online booking charges and normally print out both the outbound and return boarding passes in advance. However, as we were going on this trip for more than 15 days and there is a restriction that boarding passes have to be printed, BETWEEN 15 DAYS before flying, and up to within FOUR HOURS of take-off, it was only possible to print one for our outbound leg and not the return.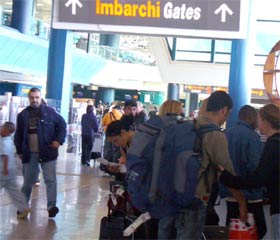 Unfortunately the villa we were staying at was in the Campo (countryside) and although I could get online with my mobile via my mobile operator we did not have access to a printer, nor was there a cyber-cafe anywhere close.
I knew I could still check in online via my mobile device and did so within the designated time slot thinking that at least I had fulfilled this part of the requirement, even if I could not actually print out our boarding passes. On arrival at the Ryanair check-in area, we had to pay an extra charge of 120 (40 per person) because even though we had checked in we could not print our booking passes within the required time slot. This seems to be a ploy guaranteed to net in more covert charges to the unwary - or in my case naive as to this crucial 'procedure'.
BE WARNED! Make sure you print your boarding passes or you'll be subject to these extortionate charges! (oh and apparently it has to be on A4 paper!) Surely this is bordering on criminal extortion? Ryanair need to be jumped on from a height and brought to order.
By: John
Leave a comment