23 comments Add a comment
Ryanair are fast developing a reputation for being an unscrupulously crafty set of rip-off merchants, unfortunately from bitter personal experience I have to admit I have fallen foul of these shysters (can you have an Oirish shyster?) a couple of times and I consider myself to be quite a seasoned traveller.
They may quite rightly boast that they have the "cheapest fares" in town but by the time you have added up all their little extras, which gather through their online booking process, and then taken into account that the majority of us will also fall foul of additional charges that they are not quite so keen to make apparent until you've been suckered into the position of standing in front of an increasingly impatient queue of fellow passengers. At this point they realise it's either quietly pay extra for baggage / boarding passes / toilets / stools / windows / oxygen or any one of the other chargeable gimmicks Ryanair throw into the equation, or face the humiliation of trying to stand your ground in front of the "the computer says" check in clerk.
I recently witnessed an elderly couple, and by elderly I would guess early 80's, literally reduced to tears by Ryanair check-in staff who held them accountable for excess baggage charges without anything other than a grunted explanation of where they had to go and what they had to do to get their over weight bags on board the aircraft.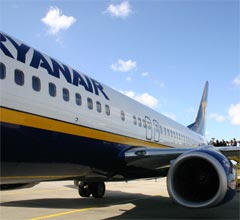 I had to leave my wife and kids in an adjacent queue to take the completely bewildered elderly couple over to the ServiceAir desk at East Midlands airport to hand over their weigh tickets. I then had to explain why they had to pay their fee's and then return them to the check in to collect their boarding passes without even a suggestion of any assistance from any of the Ryanair staff in attendance. I swear if I had even seen a hint of a smirk on any of their faces I would quite happily have foregone my week in Puerto Banus for a night in the local nick after slapping one, or all, of them senseless.
There may be many, usually very smug, travellers out there who tell their pals, and anyone else within 10 foot of earshot how they'd just flown to some far flung Ryanair destination for a penny. But I can guarantee by the time they've thrown the taxes, check in, baggage fee's etc., etc. into account, and the fact that Ryanair usually fly to some strip of tarmac miles from where they actually advertise they're going then they, like the rest of us innocents, are getting ripped off side ways and could have flown much easier, much closer with half the hassle.
What goes around comes around they say and I'm quietly waiting for the day when I can think of that elderly couple at East Midlands airport and spare a crafty smirk to myself as the television news announces that "the worlds cheapest (but tackiest) airline" has bitten the dust.
Not many will shed tears in my opinion.
Leave a comment