35 comments Add a comment
I've got to get this one off my chest now because having just come back from a busy Airport, Luton in this case, I can see why some people might dread flying off somewhere on holiday.
Airports are busy places and some people do the stupidest things there. What gives, do they all leave their brains' at home when they take off for a holiday?

Its bad enough having to put up with delayed or worse still cancelled flights, youngsters running amok in the departure lounge and the general incompetence of airport staff. . But when we have to deal with the real bozos and air heads as well it tends to lead to a completely new level of frustration.
Baggage trolleys aren't difficult to operate
Lets start with baggage trolleys, these things aren't difficult to operate, so why do some people insist on dumping them in stupid places, just park them in the bay when you're done with them. And why do the continually nudge you with them when you're waiting to check in. It doesn't speed the process up? You're not going to get to the desk any quicker by shunting me with that thing!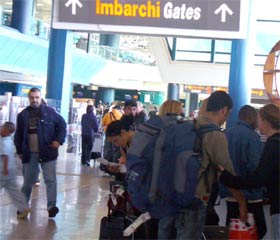 Okay you've checked in and you're flight is on time so you head off for departures and go through airport security. Why do people stand in the queue for the security check for 15 minutes and then remove their coat and empty their pockets only when they get to the security scanner? You have to stand there and watch as person after person does this, when they get to the scanner they look surprised when they are asked to remove there coats. This just annoys me no end, don't they want to get to the bar?
The sad thing is, you have to go through all this again at the other end. You make your way to the baggage reclaim area only to be faced with lemmings that crush up as close to carousel as possible in the hope that they can snatch their luggage before anyone else. Now this conveyer belt snakes up and down the room for miles, and yet they just must cram themselves right up to the door where the baggage falls onto the belt. Why do they do this? Do they think someone is about to run off with their duty free if their bag has to move more than three feet away from the door? Please ladies and gentlemen, lets have some sanity in the terminal building!!
Leave a comment