81 comments Add a comment
My gripe is the ridiculous Ryanair excess baggage policy. Lots of people use low-cost airlines these days because its a cheap way to fly and we can all do without the frills when we want to go and see family. However, be warned, sometimes travelling with a no-frills airline can cost you more than you think. In particular, pay attention to your baggage allowance or you could end up paying a hefty surcharge for those suitcases on your return trip.
Back in the good old days a few kilos here and there didn't matter, but at some airports and with some airlines they count every kilo and will quite literally come down on you like a ton of bricks if your baggage is overweight.
I travelled from Stanstead to Valencia with family this year for Christmas by the low fairs airline Ryanair. We packed as light as we could and between the five of us had two suitcases and one piece of hand luggage each. We had no problem on the outward journey as the suitcases weighed 15 and 20 kilos each and the hand luggage was around 10 kilos which was the recommended weight. Generally I have found that the check-in staff are quite agreeable. A small discretionary surplus is to be expected and overall it often averages out as sometimes the hand luggage is light or one or more of the items of baggage I the party will be light.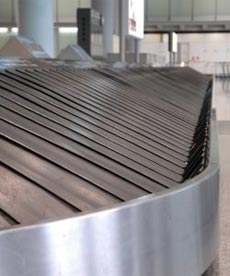 On the return journey we pre-paid for one extra piece of baggage at cost of 10 to accommodate Christmas presents and souvineers bought whilst on holiday. We considered the possibility that we may be slightly over the limit of 15 kilos, but probably not by much and as it wasn't a problem on the outward journey we proceeded to the check-in desk.

Imagine our surprise when the Ryanair employee checked our baggage in and handed us an excess baggage receipt and instructed us to go to the desk and cough up an extra 80 Euros because the combined excess weight of our suitcases was 10 kilos! Bear in mind that there were five of us travelling and between us we only had three suitcases. She even held back a boarding pass until we came back with the stamped receipt as proof of payment.

The whole experience left me mad as hell and we weren't the only passengers to suffer this fate. The people in line in front of us ended up re-packing their suitcases to try and escape the excess baggage penalty. Unfortunately we could't do that as she had already billed us for the extra kilos and was ready to move on to the next load of passengers.

Cheap flights, but theyve sure found another way of screwing the passengers out of money. Why can't they be a bit more lenient with the weight allowance? I can understand that the restrictions are there partly for safety reasons, but I do think in this case the check-in staff were a little bit harsh. Maybe they really should start weighing the passengers as well. That would make life interesting!

By: Kenny

Leave a comment