75 comments Add a comment
Has anyone used Globespan Airlines? I have recently used their so called "Award Winning" service to travel to Canada and was less than happy with several aspects of their service.
First of all, the flight was delayed by two and a half hours due to the co-pilot's security pass being out of date. How ridiculous is that? We were even called to the departure gate before this fact was announced over the tannoy. Secondly the food, for which an 8 levy is charged was almost inedible in my opinion. If Jamie can produce school dinners for 39p, why can't Globespan produce a reasonable meal for more than 25 times that amount?
The final straw was the poor choice of in-flight entertainment. The only movie we had for an eight hour trans-Atlantic flight was Mrs Doubfire! This movie was made in 1993. How cheap and out of date must a movie be for Globespan to show it on a flight? Maybe they picked it up from a bargain bucket of some retailer at the departure lounge before we left?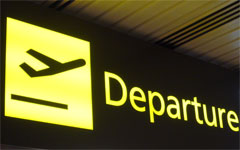 However, the real cause for my rant is the impossible situation regarding registering my complaints with Globespan. Their website is as far as I can see completely unhelpful and freely admits that they will not respond to feedback! By sheer volume of e-mails sent and threatening to write to newspapers, they finally conceded to send me a reply, with promises to review my complaints. However, all subsequent e-mails sent by myself have been ignored.
I have twwo questions:
1) How on earth did they win an award?
2) Who on earth deemed them worthy of an award?
If I'd the decision had been mine they definately wouldn't have received one that's for sure! I'd love to hear from anyone with a similar experience with Globespan and advice on how I can raise the profile of my complaints.
Leave a comment