75 comments Add a comment
What is this irrisistible compulsion that some British people have to jet off on a foreign holiday every year, particularly around now when there's an occasional rain shower or two? It's almost as though the moment someone on Facebook mentions they're going on holiday, suddenly the green-eyed monster appears and they've got to get away somewhere hot and sunny as well.
Britain is a lovely country and there's plenty of places right here on our doorstep that you can go if you want to take a break. Need to see a beach? We've got plenty of those too and the majority of them are very clean and if you choose the right day not too busy. Who needs to join the hordes of lager louts and chavs heading for the usual destinations, getting drunk all night and lying on the sand like beached "red" whales the next day?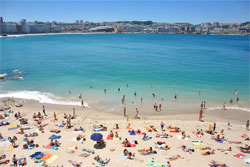 lie on a beach all day or lounge by the pool...
On a side note this is something I just don't understand. If you're going on a foreign holiday at least get out and see the place, don't just lie on a beach all day or lounge by the pool reading a book. That's such a waste of a "change of scenery".
When I was growing up we didn't go fly off somewhere every summer and it's not something I particularly want to do now. There's nothing wrong with the odd holiday in the sun but I just don't see the point of doing it every year. And as for those who do it two, three, or more times a year then you're obviously earning too much money. Besides, all this extra air travel isn't exactly doing the environment any good is it?
I don't feel bad or depressed when I hear that friends are going on holiday but I can appreciate that some people do. My advice, get out and have a holiday somewhere in this country. We may not have the weather all the time, but sometimes we do have some cracking weeks and when it does rain - it's only a bit of water and it'll soon dry up. In fact it's actually quite entertaining trudging into town in the pouring rain to some village pub you've never been to, dodging the puddles as you go!
By: Stay Here
Leave a comment