53 comments Add a comment
The typical British holidaymaker in Spain, don't they make you just want to cringe? The British (and to be fair German ones too) going to Spain and once there plunging into the "All Day BIG full English Breakfast", Pints of beer rather than the standard Spanish offering that is easier to drink and not asridiculous looking in a woman's fist!
Just try a small simple bit of Spanish
They order their food and drink in loud precise English (lets leave the German's out of this), when they could just try a small simple bit of Spanish even if the waiter then answers in English. He, at least would have been pleased that you tried.

Then of course they want to have Chips with everything. But they don't eat chips with everything in England, so why be so insistent in Spain?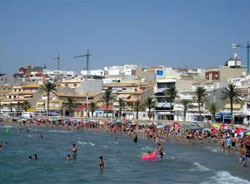 Once they've consumed their stodge you'll see them walking around the town half naked with blubber hanging out everywhere, I mean who wants to sit having a meal with that sight in front of you? Wearing hats inside restaurants... why? Huge fat people wearing sports clothing in garish colours - old men wearing cropped shorts (like Hobbits) and baseball caps, don't they know they look stupid? The worst sin so far is seeing people (men) wearing desert combats when they are clearly so NOT serving soldiers they make me laugh.
All I can say is that the German's currently think the Russians are more boorish and uncouth than the British! For heavens sake please act like a true Britain's and be classy, stylish and happy to absorb and learn about the culture and language of the country you are visiting.
By: Tonanit216
Leave a comment