227 comments Add a comment
Britain losing its 'Britishness' is a common topic that is much discussed nowadays. I am from Southern Africa and have lived in the UK for seven years (due to a certain dictator). While there are numerous cultural and social differences between our 2 societies, I am grateful to be able to live in the UK and contribute to society, although I will never consider myself completely in-sync with what British society is today.
The British people have a right to complain and lament their loss of Britishness (almost all the British people I know/associate with from all walks of society consider this an issue). Not being British-born, I can't possibly feel the same way those born in Britain do but even so, I find the following situations rather perplexing:
why does the UK not have a national day?
why is there this mentality in football that if you want the job done right 'Johnny foreigner' will do it? How can Arsenal versus Liverpool be considered an English affair, the game has basically been hijacked?
why are British businesses being taken over by foreign interests, either when in financial difficulties or because of aggressive foreign takeover policies?
why does the UK not have a national day?
why is it okay to have thousands of mosques in the UK, but blasphemy to put a couple of bricks together to build a church in Islamabad?
why are British music artists trying to copy sad American acts?
why does Britain/UK keep sending embarrassing acts to Eurovision?
why does Britain bow and scrape before any American leader?
why is Britain having to deal with the consequences of ethnic/cultural vendettas on its streets that primarily do not arise from the direct actions of the British-born folk?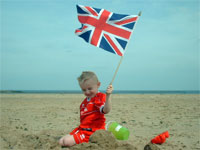 There is a distinct lack of patriotism in this country (some may say with good reason). You can't even compare with how fiercely patriotic American, Australians, South Africans, Scandinavian countries, and many Eastern-European countries are. It's a little misguided (and too little to late) when the flags come out for 'big' games or when the Queen is out and about.
Is this country still suffering from a guilt complex from colonialism? I would like to hear the opinions of British folk who a) feel very strongly about this or b) don't consider this an issue at all.
By: Dave
Leave a comment