67 comments Add a comment
Going on a holiday is supposed to be relaxing and enjoyable. However, it does not feel that way when you are going to the airport and at the check in desk there are screaming children running about when you are trying check in for your flight. Also when you are doing all the necessary procedures such as luggage weighing and going through security it can be quite stressful because you have a lot to do before you can go into the departure zone to catch your flight. Screaming children and crying babies only add to all this, especially if you're own kids.
Also with young children you have to keep an eye on them at all times because they can wander away in a busy airport and disappear into the crowd. The waiting sections in departures are always full of screaming children running amok. This is not a creche! In fact, can't airports make creches for young children? It would be easier on the children and their parents as well. You don't have to go far to hear a bawling kid in the waiting lounge at Heathrow or Gatwick. Why are parents taking their kids on holiday when they should be in school? Also why are parents travelling with newborns? It is stressful enough to travel with such a young child and it would be easier to do it so when the child is a lot older. Even in the waiting sections they should make a creche for the kids so that they are not running amok and that we don't have to put up with their screaming. You pray that you are not sitting next to them. Also why does first and business class lounges have to have little children in them? To be honest they are happier to be at home than holiday abroad to some exotic destination.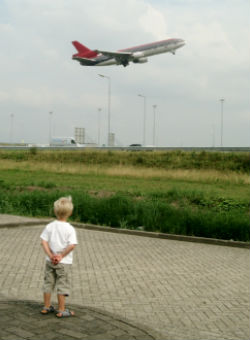 If the airport is not stressful enough then the flight can be equally as bad. I have had a couple of recent flight experiences where I have had to put up with annoying little kids who just don't shut up for the entire flight. What is more annoying is that it was only ONE kid doing this, it was enough to make me want to parachute out of the plane! The parents never say 'Use your 'inside voice' to these kids do they? They just let them yap for the whole duration of the flight. Whether it is two hours or 22 hours, listening to a noisy child is unpleasant during a flight. I don't know why there are small kids on first and business class flights. It is not a right to fly first class, it is a privilege, which should mean no little kids ruining it for others! I don't mind paying extra money to be away from children on the plane because I want to have a pleasant flight. If trains have quiet cabins then why can't planes have the same thing?
Air travel is not green because so many people have to use planes to travel to far off destinations. I think to make it more environmentally friendly the number of passengers going on flights should be restricted. I believe that airlines should not allow children under 7 years old on board any plane. This would help keep numbers of passengers travelling abroad down. Also I think it should be made a criminal offence if parents let their young child travel on holiday during term time when they should be at school. Air travel needn't be stressful, so either ban kids or make 'family sections' or 'family flights', that way people can enjoy their journey wherever they are going.
By: Angry Autistic Female
Leave a comment