33 comments Add a comment
We have just come back from staying in Las Vegas for a week. There were 6 of us in total as myself and partner got married in the Planet Hollywood. It was excellent!
However, my main gripe is that horrendous Green Card we all have to fill in before landing in the US. The cabin crew decided to dish them out a few minutes after taking off, presumably to give us 10 and a half hours to think about filling it in!
Mum made the mistake of using red pen on both forms. The chap checking them at Las Vegas Airport took a dim view of this and asked her to fill in a new one using a black pen and to "not use capitals." He could have lent her his pen but chose to wave her into the area where the thickos who can't fill forms in end up. Bearing in mind we were all absolutely shattered at this point I thought his unsympathetic approach quite appalling.
Anyway, I lent Mum a black pen to fill another form in. "Are you a terrorist?" is one of the questions. Are they having a laugh or what? "Just answer no to them all" I told her, which she did.
She took the forms back and was then told she had failed to sign her name at the bottom! Again, she could have signed it in front of the guy but she was waved away to the same place as before. By now everyone was becoming agitated, understandably so and there were other people having to go through all this a second time as well. "Welcome to the good 'ole US of A!"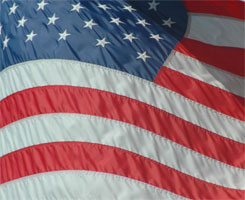 Eventually, this other chap gave up on Mum as she still didn't fill in the form correctly so he ended up (more or less) doing it for her as he gave her the sympathy vote, unlike the other bloke.
Why is the US so paranoid? It's not the first time we have felt like "terrorists" over there. In Chicago 3 years ago a rather large female Police Officer virtually waved a gun at my head because (in my exhausted state of mind) I forgot to take my shoes off for them to be scanned. I can still hear her voice now "TAKE OFF YOUR SHOES RIGHT NOW MA'AM!" Needless to say I was scared to death.
I really think US officials should give us a bit of leeway here. We have known terrorism in the UK for years and we're not as paranoid as they are after just one attack on their soil.
The should get a grip if you ask me!
By: Jane
Leave a comment