191 comments Add a comment
At almost every restaurant, one thing you can expect is for the waitress to ask if you want a smoking or non-smoking table. It's an elementary question, but it is one that shouldn't need to be asked. This simple question may seem normal, but smoking in public places is a health and safety hazard and should not be allowed.
Smoking is an extremely unhealthy habit. Burning just one cigarette releases over 4,000 chemicals into the air. This smoke can trigger some asthma attacks, and who would like 4,000 pollutants clogging their lungs?
Spending one hour with a smoker is the equivalent of smoking four cigarettes. This recycled smoking, or second hand smoke, can endanger the health of others, especially those that are very old or very young. If every public place allowed smoking, that would be like smoking wherever you go. There are no laws about smoking while driving, but it is a hazard that should be looked into. Cigarette smoke contains a chemical called carbon monoxide, which, when taken in excess, can cause the smoker to feel dizzy and off balance. How can this be called safe driving? Many smokers, when smoking in a car, will throw cigarette butts out the window instead of waiting and throwing them away. This is nothing short of being a litterbug.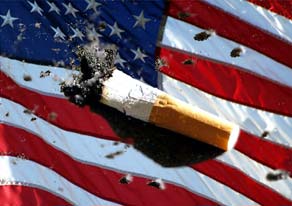 Smoking is a danger to the environment. Cigarette smoke pollutes the air, and adds to our acid rain problem. Cigarette filters are non-biodegradable, which means they will not decompose. These filters could be choked on by animals and small children, and no one wants to clean up after those who don't clean up after themselves.
Some countries have banned smoking in public places, but America has yet to follow suit. Even some of the most family oriented restaurants allow smoking. The people eating at these restaurants could include babies, senior citizens, people with asthma, and those who in general would prefer not to be around smoke. If they were really family restaurants, smoking would not be allowed.
Some smokers may feel they have the right to smoke, but non-smokers also have the right to be disgusted with the rude, ignorant, sloppy, and inconsiderate people who smoke.
By: Americangirl
Leave a comment