248 comments Add a comment
Airlines should do more to protect passengers from viral infections. Practically every time I've flown recently, I have come down with either a really bad cough, sore throat, vomiting, diarrhoea or a number of these symptoms. I was sick for a week with vomiting and diarrhoea after a recent trip from the US. My partner was sick both on the outgoing and incoming flight. It took me a month to recover the last time as I have medical problems. The time before that we both came down with sore throats, coughs and colds. I am convinced it's because we were in an enclosed place with other people coughing and sneezing etc.
There are currently cases of swine flu in Mexico which are proving to be lethal and there's every chance that viruses like these may spread quickly with the assistance of air travel, possibly even to the UK. I am seriously worried about my son and his wife who are flying from Mexico next week. I don't want to lose my family to this and hope to goodness that airlines will be responsible and take precautions, after all, they have their staff to protect too.
I really don't know how the airlines could help protect passengers other than making them wear a mask or gloves, but I think they have an obligation to do so to avoid potential epidemics. People may scoff at my concern but it doesn't take much for an airborne virus such as cold and flu to spread. Think about yourselves, your children and partners etc.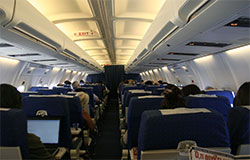 Hygiene standards should be monitored and all passengers told to wash their hands before coming on board. If they are ill they should tell airline staff and be given masks or at the very least tissues and not be allowed to sit next to the elderly or young children. In the airline safety briefing they could remind passengers about the need to safeguard others by covering their mouths if they feel the need to cough or sneeze, and washing their hands after visiting the toilet. You would be surprised at the number of people who don't realise the importance of being clean and neglect basic hygiene.
By: Mumwhocares
Leave a comment