30 comments Add a comment
If there's one thing I really detest then it would be those baggage reclaim carousels at airports. They attract the British traveller like flies around a heap of excrement!
For example, I have just travelled to a Greek airport and I cannot believe the lack of intelligence that the travelling tourist displays when they are placed in front of the baggage belt.
...they would rather create a ruckus when they see their suitcase at the last minute
These idiots immediately crowd out the conveyor belt a full twenty minutes before the baggage starts to come through into the terminal building. They virtually stand on top of the damn thing so that when the carousel starts up everyone immediately jumps back a couple of feet. This of course means that people in the crowd behind them think that they can quickly jump into that space that has just been created. It's complete chaos I tell you!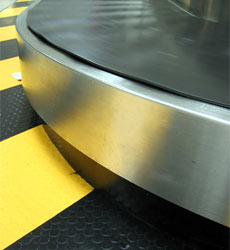 Very few of them seem to realise that if they stood back at least two feet in the first place, they would actually see their baggage trundle down the belt. At the appropriate time they could then step forward, collect their suitcases and bags from the conveyer and leave.
But no, that sounds too much like common sense and they would rather create a ruckus when they see their suitcase at the last minute... just as it is about to pass them by. At which point they make a grab for their bags and of course miss. They then proceed to get dragged along with all the other suitcases into the path of the other idiots who are doing exactly the same thing.
They are just so stupid! Why can they not be sensible and a bit more organised, because they are just creating an eternal hell for the normal traveller. By the way, this exact same scenario happened again when I got back form Greece and arrived home at Manchester. Thanks folks!
By: Ian
Leave a comment