101 comments Add a comment
This is something that really annoys me and I have to get this off my chest. I was installing some Adobe software on my computer a few minutes ago when I had this message pop up asking me what language I would prefer. Imagine my outrage when I saw that the first choice of language was "American English" - with no other choice of English despite a good search up and down the list for an alternative.
No other English language option available, just American English!
As if that wasn't bad enough, scrolling down the list revealed that there was no other English language option available, just American English! Even "British English" or "International English" would have appeased my sense of indignity. Having said that, these choices would have been annoying too (although not quite as much). It's just plain old English you fools - not International English or British English. If this were an isolated case or a rare occurrence then it could be forgiven but it happens far too frequently for my liking during software installation and on various websites, you're offered American English anywhere there is a language choice.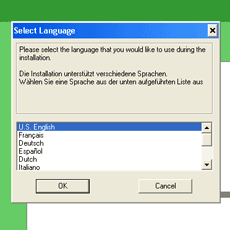 I actually got involved in a discussion on a forum recently regarding an email that Google had sent out using the term "drawing" instead of draw (as in prize draw). Anyway, the people from the America taking part in the discussion were convinced that their version of English was correct and that we should simply accept it. Well I'm sorry guys, but we're not about to let YOU tell us our version of the English language is wrong!
You Americans really have got some nerve haven't you? I'd have thought the name would give an enormous clue as to the origin of the language. How dare you lay claim to our language when you can't even speak it properly! Pay some respect. By all means have your own derivative and call it "American English" or whatever, but don't assume that "American English" is the only version of English there is. Besides, that gutteral drawl that you use to communicte with your fellow primates is barely recogniszable as English anyway!
Leave a comment