2 comments Add a comment
My partner and I went to Birmingham yesterday for the day with the intention of visiting a few of our favourite pubs and having a nice meal. As it's cask ale week there's a few free pints to be had and as we did a survey and received £5 off our meal at a Nicholson's pub. Perfect we thought, we'll go and have dinner at The Old Contemptibles in Edmund street. It's another one of our favourites, although slightly down the list as The Post Office Vaults and The Wellington get the top spot with the latter being our favourite.
We've never eaten at The Old Contemptibles as personally I think it's a bit pricey. If we're eating out we'll generally go for something at the cheaper end and visit the Wetherspoon, or very occasionally a treat in Bella Italia (courtesy of Tesco clubcard vouchers of course). Now I expected the food at The Old Contemptibles to be nice and wasn't disappointed on that front, but it was expected to just come out on a plate and not in an enamel roasting dish" Yes that's correct, I was served a burger and chips with coleslaw in a fairly large roasting tin. It was definitely very weird although my partner suggested it might be because the waitress struggles to get through the crowd when the pub is busy. It was a bit full of lager boys at that point and I expect food tends to fall off plates as they dodge in and out of these people doing The Carling two-step!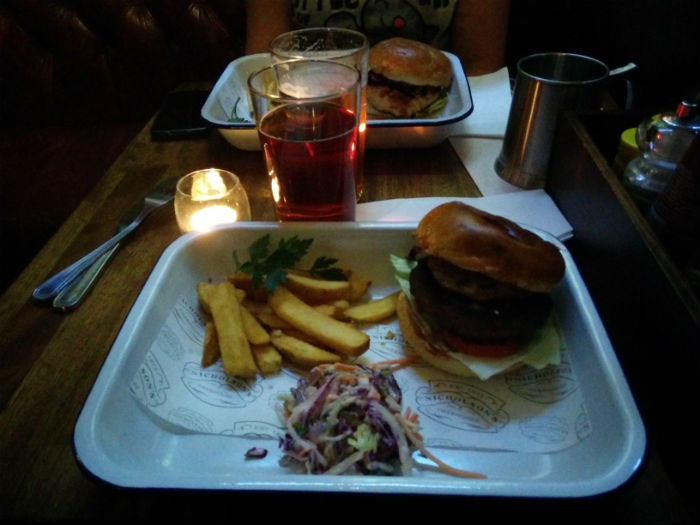 I've eaten food from strange things before though so this is just another one on the list. I've had desert from some kind of weird square slate that basically reminded me of a roof tile - it probably was! I have also had a ploughman's from a chopping board and I guess that's quite common these days but nevertheless, a proper plate would really be appreciated. Then there's chips from a mini chip fryer complete with basket or chips in a mini metal bucket.
I did a quick Google search on some of the weird things restaurants serve food in and to be honest the roasting tin is actually quite tame compared to what some of them get up to - so OK Nicholson's, you're off the hook this time! But if ever I get served bread in a flat cap or food in a shoe or spade, I'll be out the door before you lay the knife and fork down, that's assuming those utensils are still popular!
Leave a comment