74 comments Add a comment
Occasionally, I enjoy a meal out with friends and family, however, if it is a MEAL you're paying for, then surely, a meal is what you should get. My gripe is that there seems to be a wide variation in not the standard of food as such in British restaurants, but the value and quantity of food.
Recently, I was invited by friends to dine at what used to be a village pub but is now a restaurant with hyped up prices, but I did not choose the venue so I went along with it. I selected fish pie from a specials board and a soup starter. Although the soup was OK I would not say it was of special note, however the fish pie was a joke.
Imagine an ordinary bowl-shaped coffee cup, with flaked fish at the bottom and the remainder topped up with mashed potato. THAT was my fish pie and it came with just a small ramekin with a few leaves of kale on a very large plate. This tasty, but minuscule morsel was 12 worth according to the specials board, but not to me. I wouldn't have paid half, in fact, it was so small it was more like a child's portion. Another friend ordered the same and half way through eating it, the waitress came round and asked if everything was OK. My friend said 'Lovely, what there is of it ...'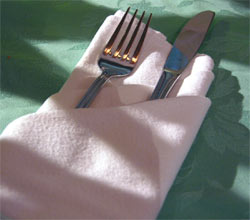 I avoid going back to these restaurants...
My sentiments exactly, but as we were with a group, none of us wanted to make a fuss, so we did what us Brits do best, put up and shut up. The chef / restaurant owner in this case had got away with it again, another ripped off customer. In fact, my share of the bill which did include a glass of red wine came to 27. I left feeling aggrieved and hungry.
This has happened to me time and time again, and I avoid going back to these restaurants because they're just not good value for money. But I ask; why do we all accept this silly less is more' nonsense? It's King's new clothes alright, but people are blind to it and accept this rip-off practise; the just eat the food, pay the bill and say nothing. If I dine out I need a meal to satisfy my hunger, not a piece of art, decoratively laid out on a plate so I can take pictures of it. Wake up England, make a fuss, you are being ripped off, the King really IS naked!
By: Stavanger9
Leave a comment