9 comments Add a comment
A fool and their money are soon parted, isn't that how the saying goes? These days that seems to truer than ever before. My gripe is particularly aimed at the way people hand over their hard earned cash to businesses that think they can charge whatever they like for their goods and services.
These businesses get away with this because people let them get away with it. They pay whatever they are asked without ever stopping to ask themselves "Is this too much?". In my experience it is those individuals that have the excess cash who are less likely to complain and I suppose you could argue if they can afford it, why should they complain? But it's those of us who don't earn as much that pay the price. We of course choose to go somewhere else wherever we can, however, that's not always possible and with a group of friends you'll often have a mixture of fat purses and skinny wallets. Whilst I have no objection to those who want to pay more doing so I do despair at those who cannot meekly handing over their money without a word of protest.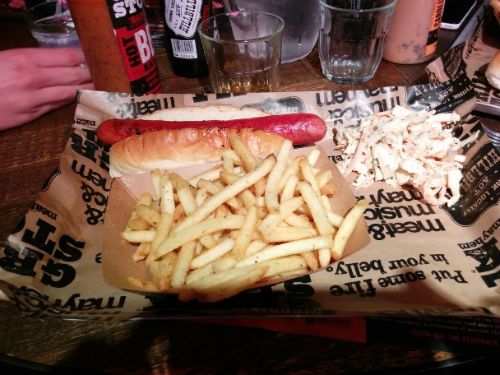 Grillstock in Leicester
This gripe was written on the back of a "dining" experience recently at a place called Grillstock in Leicester. I wasn't particularly impressed with the place (or their leaky toilets). I chose the cheapest meal on the menu a hot dog with fries and coleslaw for £6.50 and had a beer priced at £3.80. That's a 330ml bottle by the way, not a pint and if it had been it would have worked out at around £5.75!
As is so often the case these days with restaurants trying to be fancy the food didn't come on a plate. It was on a grubby looking tray with a piece of greaseproof paper, which saves on washing up I suppose! The chips were OK, a reasonable amount no problem there either and the coleslaw was OK although probably out of a tub. It didn't have that homemade taste. The hot dog was pretty underwhelming and as a package I don't think it was was particularly good value for money. How much would I have preferred to pay? Definitely less than a fiver.
So in summary, a meal and a small drink for £10.30. Probably not as bad as some places, but definitely not as good as chains such as J D Wetherspoon who can do a jumbo chilli dog with plenty of fries and onion rings plus a pint of real ale for £7.09! But what is three quid I hear you say? Well I'd say it's three quid that would be far better in my pocket than in some business more than happy to put the squeeze on its customers. My main point in all of this is don't be afraid to take your business elsewhere. Speak up and let it be known if you think you deserve a better deal. All it takes for unscrupulous businesses to thrive is for good people to shut up and say nothing!
By: Victor (the food god) Meldrew
Leave a comment