5 comments Add a comment
Going out for a meal and maybe a couple of drinks is a real treat and not the sort of thing that one can afford to do every night of the week. But it would be even more of a treat if the restaurants, particularly the big chain ones weren't trying to squeeze every single drop of cash out of you. We went to Las Iguanas recently and this is just an example of the kind of thing I'm talking about. We've also experienced something similar at Frankie and Benny's for instance and probably many other places over the years that I've forgotten about.
It all begins the moment you walk through the door. Assuming you haven't booked, and to be quite honest who would book on a Tuesday night in early January when so many places are actually very quiet anyway? At this point you'll often be told that there's a half hour wait, but you can sit over here and perhaps order some drinks and some tapas. Hmmm. So why are all those tables up there on the opposite side from the window actually empty? Perhaps a bus load of British tourists who have pre-booked are about to walk in and occupy the place. Well they didn't and we didn't sit around ordering while we waited either. We reserved our table there and then and walked out on the pretense of popping out for some cash. In actual fact we went round the corner to the Wetherspoon pub and had a quiet drink whilst waiting for our table.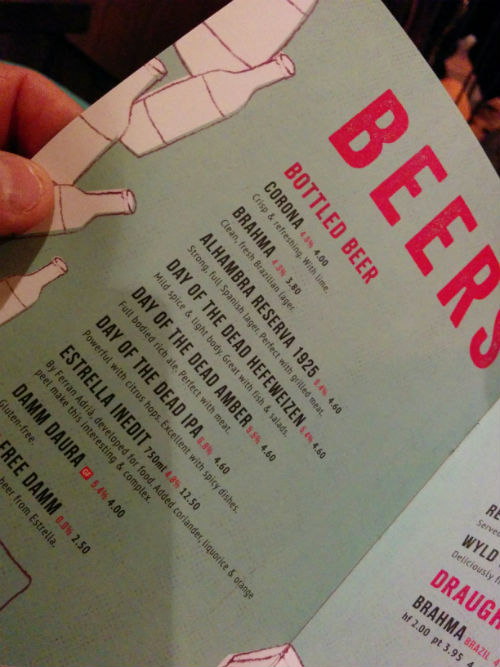 On the subject of drinks, that's one area in particular where restaurants are keen to sting your pocket. Wine is more expensive and you'd expect that, but they also tend to crank up the prices of soft drinks too which I don't think is fair. As for beer, which is usually bottled, you're lucky to get change from a fiver these days! Some places do a 2 for 1 "offer" on jugs of cocktail, which sounds great at first until you check out the price of one jug. Can't they just sell them at half price? Who wants two jugs? (awaiting saucy comments on that one!)
By the way you're lucky if you can find the prices on the menu. I've been to many restaurants where they actually try to hide them in any way the can. For example sometimes they might use a much smaller font size for the price than used for the dish. The photo shows a good example of this and although not completely hidden away, it's less easy to see and the fact that there isn't a pound sign next to the amount makes it even easier to miss! It's only money after all! I also remember being at a restaurant a few months ago that had an unusual way of writing the up prices. Instead of a nice clear "£4.50" all we got was "4.5" in a very small font. Some people perhaps have so much money they don't need to look at the price of things but I certainly don't.
Finally you've had your food and drink so you ask for the bill. Now if the food and service has been good I'll usually leave a tip, but what I don't like is when paying by card being ASKED if I'd like to leave a tip. I find that very presumptious and it's also embarrassing in a way if I enter zero because I intend to leave some cash. Come to think of it. These restaurants are charging enough so why can't they just pay their staff a decent wage in the first place!
As it happens Las Iguanas didn't take too much of our hard earned cash from us on this particular occasion. To begin with we went away and came back when our table was ready. We ordered a jug of water to go with our meal (no expensive cocktails) and my partner had found a 2 for 1 meal voucher online. However we did leave a tip - despite the fact we didn't get our starter and the service was pretty slow!
By: Won't be ripped off!
Leave a comment