61 comments Add a comment
I went out to a few pubs at the weekend and it's the first time I've gone to one other than my local which happens to be a J D Wetherspoon pub. Obviously they don't get much cheaper than that, but I was absolutely shocked at the beer prices in these other pubs.
There were three of us out together and as you do we were buying our drinks in rounds. The average cost of three drinks on a trip to the bar was between 9 and 10. Each drink was over 3 with the most expensive being closer to 3.50! The evening before it was just the two of us and we were in a different town. Again, we were paying around 3.25 for a pint. Admittedly it was my favourite beer which I haven't seen at a pump for quite some time and my fondness for this tipple somewhat softened the blow.
So generally over 3 for a pint of beer. How did it get so expensive so quickly? I can remember paying 2.50 not so long ago in one of these other pubs and thinking that it was a bit steep. Why don't they just call it a fiver and be done with it!
During the evening I made some comments about the price of a round whilst chatting to our friends and people generally shrugged their shoulders and had the attitude of, 'well that's what it costs now'. Fair enough for them because they're all earning a lot more than me. I'm not generally tight with money, but I have to look after the pennies and I begrudge paying steep prices when there's no tangible benefit. Although I suppose one could argue that it was a rare opportunity to meet up and socialise with friends, so just accept it and move on.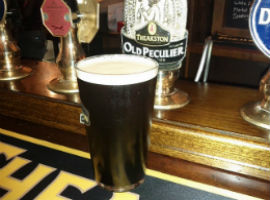 Whilst I can appreciate that we have inflation and all the price hikes that are related to the recession and our current economic position, I can't get my head around the fact that some places are very expensive and others not so much. Location makes a difference and you pay more in the city. Our local for example sells one of the cheaper, but still quite good beers for 1.50 a pint and even the premium ales and ciders are between 2.30 and 2.40. This is a far cry from 3.50!
Personally, I think that people are too complacent these days and I'm not just talking about pub prices. They just put their hand in their pocket and just pay whatever they are asked without complaining. There are genuine costs that rise and there is also genuine greed where prices are put up to make more profit. What do you think? Being priced out of a trip to the pub and staying at home a bit more?
Leave a comment