61 comments Add a comment
Its nice to go out for an evening meal and a nice pint occasionally. The local Hungry Horse or sometimes the JD Weatherspoon pub in the town centre would normally be the venue of choice, mainly because they are a known quantity. With a decent range of beers and pretty good food at a reasonable price you cant really go wrong; by the way, this is not an advert for either of the above chains!
We were out visiting family one afternoon when the pang for pub grub and a decent pint kicked in, but alas the Hungry Horse was full to capacity and not being capable of waiting for a whole hour we decided to try the Brewers Fayre place up the road. I have vague memories of having been in one of these before and the food was okay.
Whilst it wasnt a meal to write home about last time, it was acceptable. I really cant say the same about this visit to a Brewers Fayre pub though and the only reason I cleaned my plate was because I was absolutely famished!
There were six of us on this occasion, four adults and two children. It has to be said that the Brewers Fayre is good for kids, because they sometimes have quite cool play areas for them; keeps them amused whilst the adults get on with ordering food etc. Also, I dont think I can fault how quick the service was as our meal was brought to us in around 20 minutes.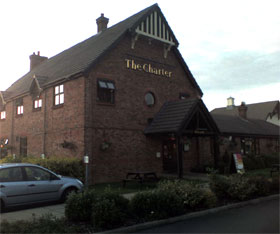 Brewers Fayre are just a little bit more expensive than the other places we go to, so naturally we expected the quality of the meal to be a little bit better as well. How wrong was that assumption?
I ordered a 10oz Rump Steak with chips, peas and mushrooms. All was well except for the steak which looked like at least 5oz had gone missing between the kitchens and our table; maybe the waiter was a bit hungry that day who knows?
Also, I had ordered it cooked medium-rare, so I would have expected a fair amount of pink on the meat. However, there was very little pink anywhere and if I had been asked, I would have said it was definitely a medium, possibly medium to well done.
One of the kids had a combo platter thing which had a bit of everything on it including some carrots. Oh, by the way they forgot to put the tomatoes on which should have come with the dish and had to be reminded. Anyway, the little girl in question is a bit of a rarity because she normally eats all her vegetables without being prompted. She is a slow eater and can be picky sometimes, but vegetables arent a problem so we were surprised when she refused to eat the carrots. Her mum tried a couple of them to see what the problem was and pulled a face of disgust. Apparently they tasted as though they had been boiled in the dishwasher or something. They definitely didnt taste like lovely healthy carrots.
Out of six meals costing somewhere around fifty pounds, I think only two of our party actually found their meals acceptable. This isnt exactly an overwhelming vote of confidence in my opinion, so I seriously doubt that we will ever go back to another Brewers Fayre and definitely not this particular one!
Oh, and one last thing. How can this chain of pubs get away with being called Brewers Fayre? Surely that implies that there may be some connection with brewing and maybe a few real ales? Ive been to two Brewers Fayre pubs now and havent found anything other than the usual piped garbage and certainly no proper beer. Sorry, we dont really count John Smiths and Boddingtons as proper beer!
Leave a comment