33 comments Add a comment
I had been recommended a great location for a walk by a friend, around Dell Quay near Chichester, and was also pleased to find a pub at this location the "Crown and Anchor" where we decided to treat ourselves to lunch. After perusing the pub menu my wife and I decided to share a 'Sausage Platter- more than enough for two', priced at £11.95. We were greatly looking forward to our food coming as it had been advertised as coming with crusty bread, chips and mustards (remember, plenty for 2 people!!).
large platter - we were a little underwhelmed
Expecting a reasonably large platter we were a little underwhelmed when the waitress came towards our table carrying what looked like a very small breadboard with two mini bowls on, along with a jar of mustard and one, yes, ONE slice of bread (no butter) chopped in half (perhaps to make it look like more than it was!?). In one of the bowls was about 12 chips and in the other was around 8 bite sized bits of sausage. So... We asked if we could have some butter, which was brought out in a bowl the same size as the one the chips and sausage was in- that'll give you an idea of the scale of bowls. I was silently fuming...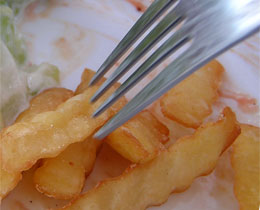 I asked for some tomato sauce and a bottle was brought to the table. When applied liberally into the chip bowl it became apparent it had the flavour of MILDEW! To say we were more than a little disappointed is an understatement.
To this day I'm annoyed with myself for not complaining at the time, but we just wanted to carry on with our day without a confrontation and so left it. Besides, the landlady who appeared in and out of the bar appeared rather bullish and rude so we didn't fancy taking her on!! But by anyone's standards £11.95 for that is taking the right mickey in my opinion. This 'big enough to feed two' platter in would barely feed a child let alone two adults.
On the up side, the bar staff and waitressing staff were very pleasant and polite, and it would be a nice place for a drink but beware poor value food pricing (and that landlady!!).
By: still hungry
Leave a comment