20 comments Add a comment
We're all feeling the pinch at the moment what with soaring unemployment, the price of petrol, rising food costs and a generally bad case of recession blues. What a sheer delight to find that my local pub, The Hobgoblin pub, 84 Sheep Street Bicester has decided to ease our suffering (not) but massively increasing their prices. Here's a letter of protest I have just sent to Pubs n Bars Ltd.
As a customer of the Hobgoblin in Bicester as my local pub of which I have frequented at least 2 times a week over the last 14 years, it is with despair that I now find myself writing to you as the owning corporation. Over the last few years the prices within the pub have rocketed to what I can only say is now an absolutely astonishing level.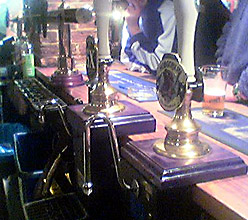 From a marketing aspect, does Pubs'n'Bars Plc not review locally the prices of other establishments within the area in which their public houses operate? This maybe of great advantage if you reviewed the Bicester area.
at least 50p cheaper than the Hobgoblin...
I was astounded when a friend purchasing a pint of Fosters lager stated that it is now £3.05p. I know as a real ale drinker that the price of Hobgoblin had gone up a lot too.
Now lets put this in consideration, the Angel public house within 200 yards of the Hobgoblin sells Fosters and John Smiths at £2 per pint. In truth every drinking establishment in Bicester sells Fosters lager for at least 50p cheaper than the Hobgoblin and their Ales too. I am not just taking the Weatherspoon pub into consideration either, this even relates to commercially common drinking haunts like Yates across the road from your pub.
I noted that on Saturday night when entering the pub that it was a lot quieter and after buying one round and feeling robbed at the prices, like others I moved to another premises where I found other former patrons of your pub who were also disgusted at the costs. I can only see a certain death for your business considering the present climate if the prices are to stay at an average of 20-30% dearer than anywhere else in the town
I really look forward in anticipation to hearing what reasoning there maybe behind such increases, as due to price rises in the past the darts teams have disbanded and the local motorcycle club no longer want to use your pub.
I just hope that good business sense will restore what has been for a number of years a good community public house within the centre of Bicester.
Yours Faithfully
An ex Hobgoblin patron
Leave a comment