38 comments Add a comment
Some wedding photographers can be a right pain in the backside and quite inconsiderate. It is all very well to take the photos and then publish them online. I suppose it means that anyone who wishes can have their own copy of the photos at a price of course.
The problem I have with this is when the official wedding photographer doesn't provide an adequate opportunity for friends and family to take some photos.
This means that no one else is able to capture the wedding party in a pose from the front. Instead we have to make do with awkward shots taken from the side and the subjects are invariable looking somewhere else. Not exactly a Kodak moment and definitely not wedding album material.
I have been to weddings in the past where this has happened and it occurred again quite recently at a family wedding I attended. The wedding photographers in this case were often quite abrupt and impatient whenever you were in their spot. Occasionally when I did find a good position, all I ended up with was a rear end in the frame as the official wedding photographers paid no heed to the fact that I was in the middle of taking a photo. This made it absolutely impossible to get a decent photo of the main groups of the wedding party and I had to be content with whatever I could snap regardless of where everyone was looking at the time.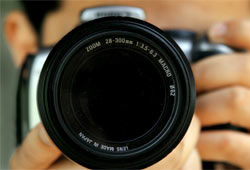 As it happens, weve had a chance to have a look at the photos they took online and for the amount of time that was taken composing each shot; one can only hazard a guess at why some of the poorly framed subjects ended up on the website!
It does make you wonder though, whether or not keeping all the other cameras away is a conscious premeditative act so that they may reap the profits of selling the good photos later on through their website. I will offer them the benefit of the doubt in this case, because I know there are certainly some photographers who allow the amateurs an opportunity to record the event.
Maybe this isn't as common as I think, but I would be interested to hear if this has happened to anyone else.
Leave a comment