20 comments Add a comment
My mother has been a widow since 1964 and I am her only child. We have supported each other all these years and continue to do so.
In 2004, it was her 70th birthday and I was planned to treat her so I made arrangements early in the year to ensure it could go ahead. However, her only sister Anne who has always been a sneaky unreliable individual also wanted to treat her and believed that she should have first say as well as trying to tell me what I should and shouldn't do.
Anne has always insisted on preferential treatment over others, but then she is someone who has always sponged off the state throughout her adult life and never managed to be independent of financial assistance from the State – a sponger. She is one of the most unreliable, incompetent, deceptive and selfish members of the family and can only win by cheating.
This auntie, I now call Auntie Virus or Anne T Virus because of various reasons including her tactics which are selfish and she is always spoiling things for others if she does not get her way. Just like a virus on a computer, hence her nicknames. I made it clear with Auntie Virus that I had already arranged a surprise for mum. I would be prepared to cancel it and go along with another plan if we could be in on this together as I saw it as a chance for the family to get together as many of her friends are from the Midlands. I am not selfish and believe in sharing things.
At first, we agreed to keep it as quiet as possible and to arrange to get mum down to the Midlands to be present at the party without being expectant of anything. This side I arranged and made mum think we were going out to a meal and a look around the region. I was waiting for further information from Auntie Virus regarding the venues and costs.
Time was running out and I needed to find out what was going on, so I drove down to the Midlands and telephoned Auntie Virus to ask what was going on saying I wanted to come down and discuss matters. She said she had the flu (quite appropriate for Auntie Virus isn't it), so I could not come down because she was too ill. What she did not know is I was just around the corner and saw her going out with friends and there was no sign of a cold or flu.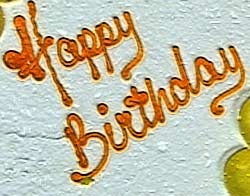 With this in mind an hour later I telephoned one of these friends, Paddy and asked to speak to her. Paddy said, "I will get her for you now". After a few moments, he said, "Anne told me to tell you she isn't here as she has got the flu" and I said, "She is there. I could hear her telling you to misinform me". It just shows how stupid some of her friends are.
Auntie Virus was trying to avoid meeting me because she wanted to have overall say over mum's birthday. She used whatever excuses she could not to meet up with me. She even said that the original venue did not do these functions any more. I was becoming suspicious of her lies, so I told her I planned on going down and said that I would be staying at a bed and breakfast irrespective of how ill she was.
What she did not realise I was referring to was a few days prior to the weekend of the party and she said she would not be there because she was going away for a week. This was a new excuse as she could not use being ill any more with me staying somewhere else. I let mum overhear this part and to my advantage mum decided she did not want to go down to the Midlands for this weekend. As mum normally stays with Auntie Virus, she was under the impression that Auntie Virus would be away and so did not want to be there on her own.
I then told Auntie Virus that mum did not want to go down to be there for the weekend the party was on and not knowing of the surprise thought there was no reason to go down as nobody would be there to keep her company. I would keep my side of the agreement and keep the party secret, but now it was up to Auntie Virus to convince mum to go down. The only way Auntie Virus could do this was to reveal the secret to get mum to change her mind, which she did and was angry at doing this.
She was too stupid to think of something original to claim that she had changed her mind on going away and therefore that she would be there. Because of this, Auntie Virus tried to hold me responsible for spilling the beans. Her lies started backfiring on her and her lies were overflowing, even trying to slur my character. She started making lies up about me to other members of the family and saying I spoilt the whole event to which I told them the full story and most believe that Auntie virus was telling "porkies".
After this, I made my mother aware of what had been going on and she had no doubt that I tried to do the best for her and it was down to her sneaky sister. Mum agreed her sister did the dirty and has always been a sneaky type and out of principle does not want to bother with her any more.
The two of them do not talk to each other and mum said she does not want her sister to be present at her funeral. It looks as if mum has had enough of the sneaky sister of hers and has rejected her.
I have also found out that other friends have started to alienate her for her attitude and sneakiness. She seems to expect others to treat her better than she does and others have become fed up with her ways. I have given Auntie Virus several chances to come clean and apologise over almost two years now but she will not.
Tough luck then Auntie Virus, you have been found out. Your dirty tricks have backfired once too often and you are getting your comeuppance.
It is not nice to think of someone in a family like this, but all the sneakiness you have done is unacceptable as well. I bet in your eyes it is acceptable for you to do this to me but not me to expose the truth of what you have done. You caused all this and have only yourself to blame. Typical of double standards associated with thickos mentalities that have to be sneaky to win.
By: Midland Mac
Leave a comment