26 comments Add a comment
Im trying to organise my own wedding, mainly because I thought it would be less expensive. However, it would seem that is not the case. Also, why is it that everyone you deal with in the area of wedding and bridal services is just out to rip you off?
We thought that if there was one thing we should splash out on, it ought to be the venue. So due to the sensitivity of some of the guests we thought we had better book it to be 'exclusive' at a cost of £4,500 (this included the bedrooms).
But my God, you can only have 'in house' catering at £50 a head for the main meals and £15 for a few sandwiches in the evening! Then of course there is the entertainment and the 'recommended' house DJ at a bargain price of £275!! Is this wedding expensive enough yet? Apparently not Okay, because we decided on the 'posh' venue (that mainly my partner wanted), so we had to have all the paraphernalia that goes with it. But even when you do the invites, reply cards, bonbonnieres (favours), scrolls and table seating plans etc. yourself, it still costs an absolute arm and a leg! So much for cutting back on a few expenses.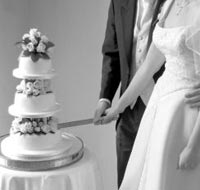 Theres more. For example that half price wedding dress that STILL costs nearly £350, or the limo that is only a one-way trip and cant take us right to the door because of a ramp. Somehow the bill for that is nearly £150 and it's a drive that is less than 30 minutes! Then there is the hire of the suits for the guys (including 5 ushers and a page); this lot costs another £370 for the VERY basic suits, not the trimmed fancy ones. The wedding cake is a simple 3-tier one, yet the price tag is still £150. What for? A few eggs, a bit of flour and some cherries? The list is endless.
money spent on the over-indulgence
So, why am I griping about the money if this is what my partner wants and I love them enough to marry them? I guess its really the money spent on the over-indulgence, mainly for the benefit of the other guests. I feel that it is just a sheer waste of money and it could have been better invested in our future instead of squandered on the wedding.
Just in case anyone has jumped to the conclusion that I must be a man because I'm complaining about the cost of the wedding. I'm actually a woman!
By: Jas
Leave a comment