32 comments Add a comment
Hell is other people, both on the Internet and in the real world. For starters, I am sick of online journals and blogs because they're all very self-centred and stupid. I don't have time or the patience for childish games or tedious things that make me wonder why I even spend my time doing them. I don't have time or interest to post pictures of me, or pictures of myself and my significant other on our trips or wearing our daily attire in order to create the impression that we are somehow having a great relationship and our clothes are cool in a very off-kilter way, which means we are still hip and know how to relate to the young crowd.
I don't take well to the idea of plastering my visage on journals and websites in order to impress a mostly blind and stupid horde of web people I don't even know, and, if I knew them, would then rather not. I don't care to write about myself in the past, present, and whatever tense, about my daily life and the things I've bought or the things I will buy, or else something about where we're going out, or advertising how wonderful a couple we are because we go out together so much and so forth and so on.
There are so many people doing the same thing today, I wonder what the purpose is. I wonder what the purpose is, more so, if they are already in a "relationship"; ah yes, that overused and mostly abused term that means you are put-together and your life is fine because you are in a relationship.
There are so many people I've learned to avoid because they are doing the same as everyone else: posting their pictures and bragging about this and that they've done, and where they're going, what shrink they're seeing, ad nauseum, ad nauseum. Even the few one or two people who might have just a little speck of genius must write entries about seeing the latest Johnny Depp movie, because he's so cool and everyone has to still relate to the world of common men because they want to be liked and hey, they've still got to pander their "Goth" or whatever you want to call it stuff on whatever bland and uninteresting online CD stores they're using to sell their atrocious CDs on.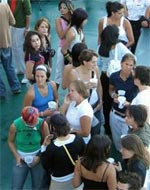 I encounter the same problem, really, in "real time" just as much, and, being surrounded by commercialism and consumerism and it's pretty hard to not be disappointed all-around.
I can't go to the store anymore to buy a CD, even if it actually does interest me. This is because I know at the end of the day the "artist" only wants to make lots of money and/or become popular. Once something is popular it no longer interests me.
I can't buy fiction anymore, because it's all the same regurgitated crap, over and over and over... really... when does it ever end?
Movies? Forget it. The only thing I can stand nowadays is Asian horror; at least it's honest somehow, and lacks in all the big gore and explosion that filmgoers need to satiate their inability to cope with real life.
Does everyone want the same things; money, popularity, and adulation? I find the latter two despicable, while money, if used creatively, can be helpful, specifically for paying bills and so forth; but popularity and adulation, well, if you're going to sell yourself, then why not come out into the open and just admit it?
I don't want to hear about how smart you are, or how popular you are, or how you have this extensive history of chumming with all the right people and you're now 40 or 50 and trying to fit into the same leather pants from yesteryear.
It's time to come up with new priorities and new ideas. It's time to change.
By: W. Kingsman
Leave a comment