150 comments Add a comment
I took my first steps into the world of video editing and producing home movies, using the quick and easy Movie Maker that comes with Windows XP. I thought to myself, this is great, but I need to be able to do more. Looking back I should have just stuck with Movie Maker!
Pinnacle Studio seemed to be a really good product at first. I started using version 9.0 of the software, and I was about half way through making my first movie when I ran into problems with it crashing. It had all been going so well, and I was actually quite pleased with the results so far. Initially I was really impressed with the way you could throw in some cool effects if you wanted to (Yes, some people do go a bit mad with them!), and that you could really control the music, sound effect and audio tracks very precisely. The scene transitions were very effective, and the title editor was exactly what I was looking for.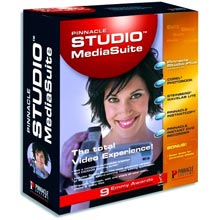 ...a nuisance having to redo all work that I lost
However, the application kept crashing and it was really becoming a nuisance having to redo all work that I lost every time this happened. Also, the performance began to suffer as the project grew in size and that just made things unbearable so I decided to upgrade to version 9.3 and for a while things were good. Suddenly though, I ran into difficulties again. It may have been my fault this time, but for some reason or other I lost the ability to render my movie in anything other than the built in pinnacle codec (MJPEG). This wasnt much use, because most other PCs and DVD players wouldnt be able to play a file with this codec.
Fed up, I put things off for a good six months at which point, I eventually decided to install version 10 and give it another go. Big mistake, because my PC just has not been the same since! This software is a perfect example of BLOATWARE in my opinion. It sucks up all the available memory, and don't even think about turning on background rendering, unless you happen to have a Cray Supercomputer tucked under your desk that is!
I just dont understand why it runs so sluggishly! I know my machine is getting on a bit, but Im not trying to make Star Wars here am I? It's just a stupid home movie with a run time of about twenty minutes. My PC is around three years old now, but it can still play some of the latest games, so that cant be the problem. Also, on the rare occasions that it does crash, this annoying fault reporting dialogue box pops up. I just need to get this damn project finished, and then Ill throw this software into the bin where it belongs.
Soon, I intend to sample the delights of Adobe Premier. Im just hoping it is a better, more productive experience than the one I have had with Pinnacle Studio.
Leave a comment