51 comments Add a comment
Basic manners. Are these foreign words to some of these rude shop staff? This is just one example but it seems to happen all too often these days. I was in my local Sainsbury doing some shopping, and as the cashier finished swiping my items, he stopped, looked at me and stuck out his hand for the money. No telling me the amount and of course no "please", just a look as if he's done me some great service or he's expecting me to read his mind and guess what the total amount is!
This meant I then had to step back to see the till and screen with the amount on it. As I handed over my cash to pay for the shopping, there was no "thank you". And finally to top it all off, the handing back of my change is done by simply dumping all the coins in one go into my outstretched hand without even looking at it. Needless to say there is still no "thank you".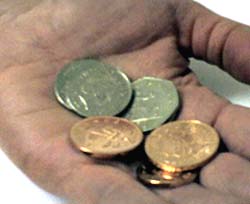 I know that this is not the 1950's when people would tip their hat to each other in the street and good manners were absolutely essential. Also, forget the training that you would think cashiers must receive from their employers in ensuring good service. But what I really can not understand is the mindset of these people, and the fact that it does not even extend to a simple "please" and "thank you".
These are the most basic manners that everyone should employ in their day to day dealings with other people.
By: Tazdevil
Leave a comment