46 comments Add a comment
There's lots of things about shopping malls that I dislike, but there is this thing in particular that really infuriates me. People standing in the way in really stupid places for NO reason whatsoever. Why do they do it? Do they not have something better to do or somewhere else to go?
I was out one afternoon at my local shopping mall enjoying a bit of retail therapy. I decided to take escalators up to a higher level and as soon as I reached the top I'm confronted by a group of Chav girls, with their baseball caps at 45 degrees and all covered in their fake bling. They were standing right in the way blocking anyone who wanted to get off the escalators.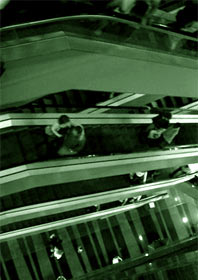 I physically had to push my way through them and of course then you get all the backchat and abuse, which they most likely couldn't spell anyway.
Why hang out here girls? Why can't you go somewhere else and do something useful? You are most likely skipping school anyway!
Here's another example that springs to mind of people standing in the way in the most awkward place possible. I went to the library at my university to do some research. You are required to have with you your campus card, so that you can scan and go through the turnstile.
On the other side of the turnstile was a group of young lads stood there in the way, just hanging around again. WHY ARE YOU THERE? Is it so you can shake the hands of everyone in the little group you have just hooked up with in the café? Well can you please do it some where other than right in the path of people entering the library?
Does this sort of thing happen to anyone else, or am I just unlucky enough to find all the human obstacles in the world? Why do these people have to hang out at shopping malls and get in the way of other shoppers?
Leave a comment