35 comments Add a comment
I have done a little digging around to find out how much this Royal Wedding at the end of the week is going to cost and to be honest, I really wish I hadn't bothered because I'm not too comfortable with the numbers that I'm seeing.
I don't have a problem with people getting married and I guess I don't mind the royals. Although I would say that their value to the UK isn't what it once was, and I begrudge the small contribution that we all have to make to keep them. The point of my gripe though, is why do they have to spend so much on their weddings which are presumably at least part funded by us tax payers somewhere along the line.
I haven't been able to find an accurate total cost for the Royal Wedding (perhaps someone can help with that), but the best estimates Ive found so far are that seem to point towards 50-60 million, with 20 million of that going on security (guys on rooftops with binoculars etc.). Thats a big upgrade when you consider that the cost of a wedding for the average couple is more like a few grand, and you can get hitched on the cheap with an Asda value wedding for under a grand and still have a few hundred quid left over for a weekend in Bognor Regis!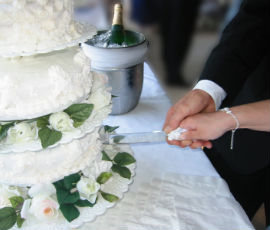 Things are pretty tough in the UK right now, although granted some other countries are have a much worse time of it than us. You just have to turn on the TV and look at the news in the middle east and Japan etc. to see that things could be a lot worse here. The could also be a lot better as well though.

I think that the timing is interesting and whilst I'm not going to go as far as to say it was contrived to deflect public attention from a raft of spending cuts and other monetary worries, it does do the job rather nicely don't you think? Well it certainly seems to be a big thing for some of the population.

I think that it would have been more decent if the couple had shown some restraint in the scale of the event; the level of spending I've seen for this wedding so far, is quite frankly obscene. They could have done something really positive, for example by having a grand wedding for maybe only a couple of million with only a few important guests and some TV crews so the adoring public can watch. Meanwhile, they could hold up a big fat cheque with the rest of the money and say Here you go folks, spend this on something that will REALLY benefit the country.

I'm sure were all going to welcome the extra bank holiday though, perhaps with the possibility of those businesses that are struggling at the moment. Come to think of it, how much is that day off going to cost the country? Somehow I don't think that the sales of a few mugs and tee-shirts, and perhaps a few extra foreign visitors is going to make up for that.

By: Angel



Leave a comment