29 comments Add a comment
I can safely say that the absolute poorest customer service I have ever received was at my local Papa Johns pizza restaurant when I went in to pick up a takeaway meal. I had called and ordered ahead of time and when I went to the counter to pay for my pizza two staff members were fooling around and chasing each other towards the door.
The one doing the chasing decided to throw his dirty apron over the counter to where I am standing – aiming it at his colleague presumably. Anyway, it never actually reached its intended target and hit me square in the face instead!
For this assault by an employee, I received only the briefest apology from the person who threw the apron, but absolutely nothing from the manager when I asked for him. Besides, he was too busy on his cell phone to attend to the situation and wasn't about to apologize for anything.

This was less than satisfactory, so I acquired the district managers phone number and decided to take my complaint further.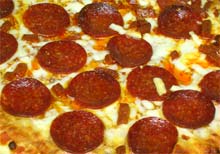 No one answered, so I left a message and got no response at all. Eventually I went onto the web site to make my complaint. Only then did I get a call back with a ton of apologies and no less than 10 free pizza cards. Sure, like I am ever going to go back into a Papa Johns ever again!
It doesn't take away the embarrassment and humiliation, because at the time the rest of the members of staff at this pizza restaurant decided that my decision to complain was funny – I was not amused. Oh by the way, I still had to pay for my pizza and I later discovered that the staff member that hit me was a shift manager - go figure.
You have got to love this kind of professional customer service!
By: J.Jordan
Leave a comment