91 comments Add a comment
There's one thing in particular that upsets me. If I'm out at a pub or a restaurant and I see someone waste good food because they have over ordered. I just think it's really disgusting, especially with so many people starving in the world. I think the phrase; "eyes bigger than their belly" would best describe these people. Food waste is simply inexcusable!
It's something that's been with me all my life. As a youngster I was always expected to clear everything on my plate and the sound of a knife scraping leftovers into the bin was quite unheard off. Kids these days it would seem are allowed to be picky with their food and I have seen so much perfectly edible food get thrown out. Perhaps our modern junk food mentality can be apportioned some of the blame though.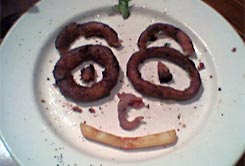 Food waste - We live in a throw away society...
Parents nowadays don't seem to mind that their children leave food on their plate. We live in a throw away society and the media isn't exactly a good role model either. I've seen countless TV programmes where someone will get up and walk away from a plate of food half eaten. American lifestyle has also had a marked affect on our eating habits. Huge portions of fatty foods and less fresh vegetables have become very common. Should we be surprised the kids can't finish their meal?
Some people would argue that the suppliers and manufacturers have a hand in the problem of society wasting food. Every thing has a 'sell by' and 'use by' date. However, I think sometimes there is a bit of a buffer built into the date and some foods will keep quite well. As a society we've survived quite well without a 'use by date'. Is it a ploy to make us buy more food?
Poor planning and a busy lifestyle will also lead to a great deal of household food waste. How many of us can admit to having made an impulse buy, then several days later having to dispose of food that has gone off in the fridge?
Back in the days when the saying "waste not, want not" actually meant something, you had to plan what would be bought, cooked and exactly how to use the leftovers. Nothing was thrown out and there was time to cook. None of the pre-packed, date-stamped unhealthy supermarket rubbish that we consume these days!
Hard times are a thing of the past and we don't really appreciate how good things are until it's too late. It is particularly sad when there are so many in the world that don't have enough food to eat.
Leave a comment