9 comments Add a comment
I'm very tired of spending my hard earned money in establishments that are less than courteous and unwilling to make amends when the give poor service or sell you a poor quality product. I've experienced a level of poor service at many places, for example McDonald's, KFC and Rita's Italian Ice establishments. This list is by no means complete.
This evening I had to go through it all again with Vincent's Pizza Park in Pittsburgh. I called to order and the member of staff I spoke to was very abrupt with me and acted as though I was bothering him. I carried on and ordered though because I really enjoyed the pizza I got from there last time. Well this turned out to be a really bad move on my part.
When my sister and I went to pick up our order, we had the misfortune to encounter the less than courteous person I spoke to on the phone. Again, we were treated as though we were second class citizens and were just an inconvenience. We took the pizza home and it turned out to be one of the worse pizza's I've had in my life. Bear in mind that Vincent's are known for their pizza, it's a very good pie renowned for being a bit on the greasy side. A kind of an eat at your own risk type of food, but it tastes great anyway. I knew what to expect because as I said I'd had pizza there before and never really had a problem. In fact I've always really enjoyed the food.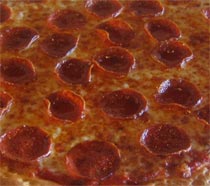 The pizza we ended up with tasted like it had been cooked, left to go cold, then re-heated before being sold. The pepperoni was as chewy as an old boot as if it had been sitting for a while. I called back to complain and ended up speaking to the shift supervisor. He was basically just as abrupt and horrible as the guy who took my order. He argued back and forth with me saying things like, "So what do you want me to do about it!" I said, "I'm simply making you aware of the poor experience I had after buying your product."
He seemed convinced that I wasn't trying to get a free pizza when all I was doing was letting them know that I'd had a less than satisfactory one. As if a free pizza would be the perfect band aid to cover the wound!
I'm just so sick of spending my HARD EARNED MONEY in establishments that treat you like dirt and don't even try to apologize, but they're quick to give you an excuse when they screw up. Please, can someone tell me what happened to the notion 'Think of customer first' or customer is always right'? Because lately I've been made to feel that I'm wrong by asking for quality and courteous service.
By: Angry Pittsburgher
Leave a comment