325 comments Add a comment
You must be joking... Why do we tip or pay an extra service charge in restaurants - at all? The way I see it, its like this. You have agreed in principle to pay for your food at advertised prices. Having selecting your meal from the choices on the menu you then sit and wait quietly and patiently for it.

The meal arrives and you eat. Surely you should expect to get good service with it. Why pay extra on a tip or a service charge?
Surely you wouldn't expect to tip the lady at the petrol station because she smiled at you when you paid? I wouldn't tip the chap who just spent 20 minutes helping pick the wood for my DIY project so why should we be expected to tip at a restaurant?
We all know that in the restaurant business is one with a very high margin. Surely tipping and paying an extra service charge just helps keep waiter staff wages down?
You shouldn't have to pay a tip for the food...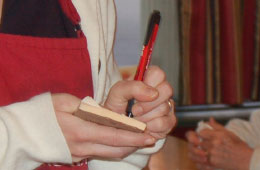 It would be much better to make service charge and tipping obsolete, but if the food or service is not up to standard then make a complaint and its up to the restaurant owner or the manager to put it right - perhaps even discount it. You shouldn't have to pay a tip for the food, because you have already paid for it and the waiters and waitresses are paid by the restaurant to serve the food!
By: Wes
Leave a comment