11 comments Add a comment
My friend invited me over for dinner with her and her husband and as a treat we ordered an Indian meal to be delivered from well known Indian restaurant in Stevenage, Herts. We have ordered from there before and enjoyed our meal however once dished up found we had been sent a pilau rice instead of peshwari naan. I checked the bill and sure enough they had taken our order down as a pilau rice not peshwari naan. So I rang and explained, and they promised to send a naan out immediately.
Approximately 5 minutes into our meal as I dug my fork into a pile of lemon rice a fly crawled out from underneath it and scuttled across my chicken mulli and died shortly afterwards. Shocked and horrified I looked up to my friend who was also staring at my plate and confirmed what had just happened before my very eyes.
I rang the restaurant and asked they send me a fresh lot of food and suggested they should refund the money as well. To do this was beyond the powers of the person I spoke to on the telephone, so they needed to speak to the manager who would be back shortly and they would call back. When they did, the big boss was required to make this decision so they would again call me back.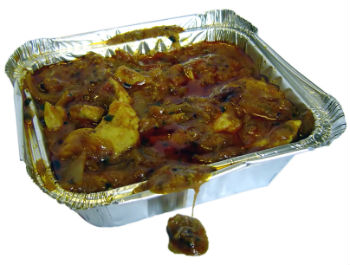 Half an hour passed so I rang them and spoke to the manager. He asked me why I was complaining! I have to say, he was exceptionally rude and put the fly and the order cock up down to the restaurant being busy but this was unacceptable I thought! The manager then agreed he would refund us but only £7 and that was supposed to be for a mulli chicken priced £7.95, a lemon rice and a pilau rice that was meant to be a peshwari naan. I pointed out to him that this wasnt the correct price and he said it would be just under £8 normally but a pound is taken off for delivery. Is this guy for real?
After a very rude and brief barrage of abuse the manager told me if I didn't like the food I shouldn't eat there and hung up on me! Where on earth has customer service gone these days?
An hour later a man from the Indian takeaway turned up at my friends door and handed us £7 in cash. A total lack of customer service for an issue they should be urgently addressing. My friend is so upset our meal was ruined and I was gutted that I didn't get the meal I had looked forward to all day, instead we were £32 lighter for severely substandard food with an incorrect order and an additional fly (at no extra cost you'll be pleased to know).
Leave a comment