19 comments Add a comment
Are all the owners of small, private restaurants and cafes trying to be like Gordon Ramsay?
My wife has worked for two restaurants, one hotel and three cafes, with several owners and head chefs (often they are the same person) coming and going. Each one had the same type of personality: rude, obnoxious, foul-mouthed, deceitful, and above all, they were egomaniacs!
Each has failed to pay staff correctly and have often fired staff for trivial reasons, or for no reason at all. Each of them has refused to offer proper contracts, job descriptions or pay National Insurance (all paid with cash, which has inevitably been wrong). As for sick pay and paid holidays... One of her employers provided such a nasty lying reference basically accusing my wife of criminal activity among other things. Each establishment has had very high staff turnover and some of the owners have boasted about this in public.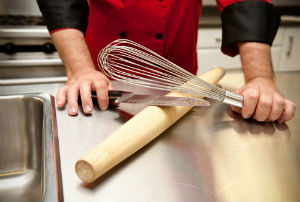 The head chef/owners have always seemed so negative about their staff, menus and even customers. Each one takes delight in being critical. Nothing is ever good enough, yet they won't train staff properly, always shout at people for no reason and questioning their work, and they all seem to enjoy belittling people and treating the staff like dirt.
Kitchens can be such unpleasant places to work, but only because the head chef/owner wants it to be. Yes, the catering trade works anti-social hours, but working unpaid overtime under threat of being fired is blackmail. With jobs hard to come by, these villains can threaten their staff with anything they like.
The latest restaurant has had a 100% staff change in less than 9 months, with an average of 2 leaving a month! This in turn leads to the owner calling people into work at very short notice (i.e. 30 minutes). Fail to attend and guess what happens.. goodbye job! This same owner ordered his staff in on a day the place didn't normally open, to provide for a private family function. He refused to pay the staff, saying it was voluntary to come in, but anyone who didn't would have been fired!
Is it the same as this everywhere in the catering industry? Why spend time and money training, paying for uniforms and trying to make a career out cooking, when the rewards are so poor and the conditions worse? Well, this time, my wife has decided to walk away and look for a new career. Cooking, it appears, is for those who want to be screamed at...
By: Freeminder
Leave a comment