36 comments Add a comment
My friend and I visited Harry Ramsden's at Blackpool with our two year old daughters. We ordered off the main adult menu, Haddock & chips with a pot of tea £7.95 each. We explained to the waiter that our children wouldn't eat a full meal, so could we just have 2 sausages and they would be able to have a few chips off our plate. The waiter was fine with this.
When it was time to pay our bill we discovered that we had been charged £4.49 per sausage - this was basically the full price kids menu. We spoke to the lady on the till who said that we had to pay for a full meal, even though we didn't actually have everything on it. I told her that that this was ridiculous and that the waiter hadn't mentioned this when we ordered our food, but she insisted that he would have done and went off to speak to the manager.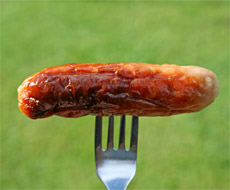 The manager came over and from the moment he spoke to us he was rude, antagonising and condescending. He frequently interrupted us and insisted his waiter would have explained their policy and basically accused us of not being able to read! All through this he kept referring to us as "My Love". I asked him to stop this as I found it very rude and patronising - as a result of which he did it even more. I reiterated that at no time had the waiter said anything about having to for a full meal for the children even if we only had the sausages. If he had then I would have just shared the food with her off my plate and not paid £4.49p for a full meal.
He just wouldn't budge and just kept saying "If you look at the menu it says - children's menu £4.49." I pointed out that we didn't want the full menu, we just two sausages and where on the children's menu did it say you had to pay full price for one item.
We were basically made out to be liars and illiterate ones at that. We were treated in the most arrogant, patronising manner when I mentioned to him that other restaurants such as Wacky Warehouse and Pizza Hut offered a better, more flexible service when it comes to children's meals. He just laughed at me and said "Wacky Warehouse? At Harry Ramsden's we are a high class restaurant."
I eventually paid the bill in full and we left. I certainly wont be recommending Harry Ramsden's in Blackpool to anyone I know. No customer care, put down and patronised by the manager and made to look stupid. Oh, and let's not forget the fact that we were £8.98 out of pocket for a couple of sausages.
By: Abster
Leave a comment