38 comments Add a comment
I had a bad experience at Tesco today. First of all I went to the deli counter where there was no one serving behind the counter, I waited 5 minutes at which point another couple of people turned up at the meat counter next to the deli, also unmanned. Just then, another lady turned up next to me at the deli counter and I told her I had been waiting ages.
A member of Tesco staff eventually came along but went to the Hot chicken and cold salad counter opposite, this girl then decided that she ought to come over and serve someone, but she went straight to the meat counter.
The couple there told her that I was waiting first at which point she turned to me and said "I can't serve on the deli counter, I haven't had the training but someone will be over to help you soon". Along came another girl who eventually served me, she asked me if everything is OK and I said "No, where's all the staff, why are you so short staffed today?" She replied "Sorry, yes we are a bit and it's only going to get worse." I'm not sure exactly what she meant by that! When I finished my shopping I went to a checkout and was served by a man who was so slow it seemed as though he was still in training, he tried to find a bar code on my own battered cool bags that I take to put my cold/frozen food in!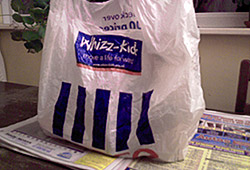 Job done I went home and unloaded my shopping, my hubby picked up the newspaper that I bought and he pointed out that it was yesterdays paper, I didn't believe him and when I checked, sure enough it was. I called Tesco straight away having looked up a geographic telephone number first (I don't pay for non-geographic numbers). I rang this several times but no-one picked up so reluctantly, I rang the 0845 number (not knowing how much this call was going to cost me). I got through to a lady and now know that this number does not connect you to the store but through to a call centre who then ask you why you are calling. They then put me through to Customer Services at my local store, but I was left ringing with no answer for 10 minutes!
I cleared down and tried again, the 'call centre' person suggested I try later. Not content, I called again and eventually got through to the store duty manager. To cut a very long story short he eventually agreed that next time I went to the store they would give me £5 compensation. I am thinking of shopping at Asda from now on, maybe my blood pressure will be more stable if I do.
By: Walki
Leave a comment