3158 comments Add a comment
So this is it the French have finally decided to succumb to closing the Sangatte camp, on the grounds that we in the UK accept half. Why? Have we not got enough British Citizens already? Now where can we place them? Government decision, in the oppositions constituency. What are we talking about Pawns in a chess set?
No, we are talking about taking 750 asylum seekers, and sticking them in between two surrounding villages of Bicester (Arncott and Piddington).
Bicester, to those who do not know it originally was a small market town in Oxfordshire, it has now grown with the economy to give good housing and good access to both London and Birmingham. Unlike our other towns in Oxfordshire, it has a very low ethnic minority count. It is not that we are racist, it is just that the surrounding towns and Cities have greater amenities to attend to peoples religions/beliefs. We do have the Central Army Ordinance Depot, on our outskirts where army personnel live, one of these villages being Arncott.
Now as a town, there has always been a restlessness between the locals and the army personnel who also want to use the public houses within the town centre, often causing the local police and the military police to sort out these disturbances. So now lets put 750 Kurds, Albanians, Iraqis, etc. in a volatile environment where there are not many British Citizens and young lads from the local army barracks, what are we looking at? I dread to think.
They almost always end up doubling in size.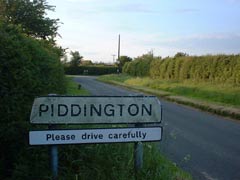 The troubling thing is that like all detention centres, prisons, etc. we all know that when they are built they are supposed to house a certain amount, the problem being that they almost always end up doubling in size. Sangatte was built for 700, it now has over 1,500. Arncott and Piddington between them house 700 people (Figure from the Sun 23/05/02), so what is it going to be like with 750 Illegal immigrants, possibly double that in the future.
Another thought, is when they were confined to one area with good amenities, for example Campsfield House and the detention centre in Luton, they are determined to damage it, most recent being the fire in Luton. When they have their freedom as they do in Sangatte they go round with knives attacking each others community, Afghans against the Iraqis.
Sangatte has turned from being a nice seaside village into being a war zone where people dare not leave their homes in the evening, is that how we want people in our villages to feel? Do we want our town to turn into a free for all between all the young people? Could Bicester retail shopping village be a place where you might go with a wallet/purse, but going home without it may become a common feature? Easy picking for free loaders coming to live at yours and my benefit.
Just remember next pay slip, how much tax you pay goes towards these guys who have fled not because of the trouble in their country, but because they are in trouble within the security forces of their own land.
Leave a comment