327 comments Add a comment
One thing that drives me mad in Britain today is the blame culture, a serious lack of personal responsibility and an obsession with the phrase "It's not my fault". In my opinion this is particularly directed toward foreigners regarding the perceived unavailability of any decent jobs.
I am not even standing up for my own people here, I am a white working class male born and raised in the North East, but the bottom line is that the working class in the UK have badly let themselves down and comfort themselves by blaming everyone else. I hear it all the time "No one round here can get a job because of all these foreigners", "the whole country is overrun by asylum seekers".
This is absolutely rubbish, because if these people were really prepared to get up and go to work, then they could most likely find some kind of employment. It's far too easy to use these people as a poster child for the countries problems.
there are no good jobs because the foreigners have taken them all...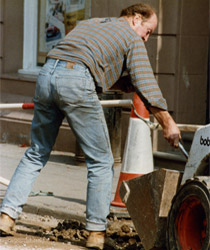 I see a lot of hard working immigrant families in Britain, people who have tried very hard to set up businesses, get jobs and make lives for themselves, meanwhile a portion of the underclass indigenous population sit in their council houses paid for by the taxpayer watching mind numbing TV telling themselves that there are no good jobs because the foreigners have taken them all. These people complain they have no money, but they can still afford 20 Lambert & Butler and a 40 inch plasma TV.
We need to have more of a "can do" mentality, looking at improving the lives of our children through good parenting and education. Unfortunately, some working class in England today are more interested in sitting around watching X factor and moaning about the problems the country has that are not their fault instead of educating and bettering themselves. Apathy is embraced as if its a virtue and we need a new mentality.
By: Musicjunkie
Leave a comment