39 comments Add a comment
Why is it that people who think it is perfectly acceptable to make comments and jokes about how thin you are?nbsp; I am a size 6, eat around 3000 calories per day (in an attempt to gain weight) take regular but not excessive exercise, and yet am plagued by a constant form of harassment that seems to be perfectly acceptable to everyone.
I am constantly bombarded with comments referring to my weight and how thin I look. These comments may be anything from the innocent "you are so lucky to eat what you want and still stay so slim" to having people accuse me of having an eating disorder.
These comments are made on an almost daily basis and no one seems to think that this kind of behaviour is unacceptable. I ask you, would this kind of abuse (and yes I do see it as abuse when it happens so frequently) would be allowed if I were over weight? Have you ever walked into your office and mentioned to one of your overweight colleagues how fat they are looking today? Or that you think they should eat less. No? I didn't think so.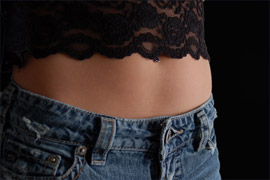 Not all thin people are thin by choice.
The very fact that commenting on a person's obesity is considered rude and offensive, but commenting on how thin or slim someone is seems perfectly acceptable, to me is a total contradiction in social standards.
Not all thin people are thin by choice. Some of us work very hard to put on those extra few pounds to fit into those size 8 jeans simply because the majority of stores do not sell 6s. Please remember that thin people can also find it deeply offensive when people make comments about their weight.
By: TracyB
Leave a comment