47 comments Add a comment
Why do people, particularly women get so obsessive about dieting and want to lose weight all the time, particularly when as far as I can see they don't need to? They're always at it, counting the calories and trying a new diet when the old one doesn't seem to work.
If you flip through any magazine aimed at women, which isn't something I do regularly by the way; on practically every other page you have stuff like, slimming pills, fantastic claims about how to lose weight fast, new low calorie this, low fat the other. It's enough to make you feel overweight just looking at it all! No wonder women are always starting a new diet tomorrow. Is it the male population that is to blame for all this, or is it the super slim models that they see on the pages advertising the diet?
Trying to lose weight? You don't have to!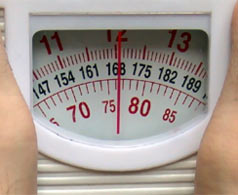 The people that come up with all these diets must be raking in an absolute fortune and all because women, and perhaps some men feel a bit insecure and think they are overweight. Yes it's true, some people are overweight but I'm willing to bet that a fair number of the people who regularly do the weight watchers and Atkins thing are probably not excessively overweight. They might be a bit curvy in places, but there's nothing wrong with a full figure as long as you eat healthily and take regular exercise.
Who says that men like stick insects anyway? Lose weight if you really must, but when I see these skinny models in the magazines - the only thing I want to do to them feed them up a bit! We like you the way you are and you look fine, really, honestly. Otherwise we would say something like "stop eating those damn chocolates because you're getting fat"; you don't have to look like a supermodel because that isn't exactly normal anyway!
Information about losing weight
Learn how you can use unique training and nutritional strategies to lose weight.
Leave a comment