50 comments Add a comment
Do you think that this steak pie looks really appetizing? Can you see the tender pieces of juicy steak in a rich gravy as advertised on the packaging?
Nope, I didn't think it was that appetizing either and I certainly didn't find many chunks of juicy steak in there. It has to be said though, there was plenty gravy. In fact I think the filling was MOSTLY gravy with a few gristly bits of meat and fat and goodness knows what else!
This particular steak pie wasnt meant to be a deep fill one, but I had hoped for a bit more filling than I ended up with. I reckon I could easily have nailed this thing to the outside wall and picked up some television channels it was so flat and devoid of any substance.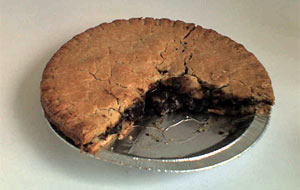 I was so looking forward to my dinner, a lovely meaty steak pie and mashed potato - this is my all time favourite by the way and I can tell you that I was sorely disappointed on this particular occasion. It really annoys me when I buy a product and once I open up the box its nothing like the product I saw in the photo. Isn't that false advertising and is there not some law against that?
Pictures of delicious mouth-watering food
I've noticed that this seems to happen more often with food bought from the big supermarkets. Stuff from the freezer, ready meals, pies, pastries and deserts etc. all come in these fancy colourful boxes. Its all very well to advertise using pictures of delicious mouth-watering food, but youve got to follow that up with actually having a product in the box that resembles those images.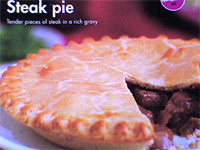 I guess if you want a really good meat filled steak pie, the best bet is probably to dig out a recipe, your rolling pin and go make one yourself! Alternatively, there are still a few specialist pie and pastry shops that make their own on the premises.
Ive had some really nice steak pies from the butcher shop where I grew up, but there again Im naturally biased towards Scottish steak pies they're the best in my opinion! Perhaps thats why my expectations are so high.
By: Simple Pieman
Leave a comment